Our Team
CoralWatch is based at The University of Queensland, Australia, and is supported by members all over the world. Find out more about our team and our enthusiastic Ambassadors.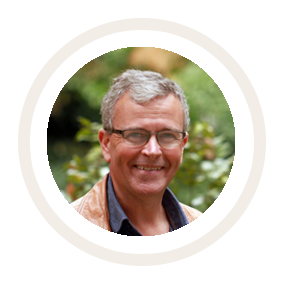 Prof. Justin Marshall
Chief Investigator and Project Leader
"The time for thought and discussion is over and the time for action and tough decisions is here."
"Since my first reef encounter at the age of 6, I have been fascinated by their biology and in love with their beauty. I absolutely refuse to accept that humans are not capable of preserving this fantastic ecosystem into the future but currently, we are not doing a very good job.
One of the reasons for designing the CoralWatch system as it is and the reason for coordinating and helping to write our book is to engage the community in this process. The time for thought and discussion is over and the time for action and tough decisions is here. I am very fortunate to be able to work on reefs every day and spend as much time as I can there. My kids have seen it and they love the vibrance of the place and the animal life. I am now working for them so that, when they get to my age, their children will have the chance to also draw energy and, where necessary, nutrients and livelihood from coral reefs.
Our current best estimates tell me that this is unlikely, but the fantastic CoralWatch team and our growing band of volunteers around the world are working hard to prevent their degradation by spreading knowledge and helping to come up with practical solutions.
Please join us in this effort. Don't be swayed by the ignorant, lazy and selfish approach of 'sceptics' who apparently do not care for the future of their children or yours, and who grasp at any opportunity deny or distort plain fact. Don't engage with this band of no-hopers, leave them trailing in your dust and help to secure a future for our planet that includes the beauty and bounty of the coral reef. With your help, we can do this."

Ms Karen Hofman
Project Manager
(Temp)
"Understanding that your actions above water affect everything living underwater is imperative to the health of our oceans."
Karen's love of the ocean and marine environments has led her to research methods most likely to enhance the uptake of conservation behaviours that contribute to the protection of environmentally sensitive areas such as the Great Barrier Reef. The use of documentaries and virtual reality is the main focus of her PhD in this area.
Karen is an avid scuba diver and passionate about educating others on how best to contribute to the protection of such precious environments through effective communication.
.
Diana Kleine
Project Manager
(Education)
"People don't realise our underwater environment is rapidly changing and the impact their daily life has on ocean life."
"Isn't it great to have a job where you can show, and teach people about, the amazing underwater world and help to preserve it?
Originally a graphic designer and dive instructor, I am now organising the marketing and production of all the education and monitoring materials for CoralWatch, including this new website. A very busy and motivating job! My main aim is to raise awareness and encourage people to get involved in our CoralWatch monitoring program.
A lot of people don't realise that this beautiful underwater environment is rapidly changing and don't realise the impact their daily life has on ocean life. I hope our new publication "Coral Reefs and Climate Change" will inspire even those who have never seen a reef to get involved."

Our Ambassadors
CoralWatch works with a team of very passionate Ambassadors. They are located along the Queensland coast and can help you with local activities and events.